Wubbzy loves St. Patrick's day! St. Patrick's Day is an Irish holiday celebrated all around the globe to honor Saint Patrick, the patron saint of Ireland.
Wubbzy has been looking all over Wuzzleburg for clovers to celebrate this special holiday. In Ireland on St. Patrick's Day, people traditionally wear a small bunch of shamrocks on their jackets or caps. Children wear orange, white and green badges, and women and girls wear green ribbons in their hair. Wubbzy has a green hat to wear on St. Patricks Day this year!
You know Wubbzy loves marshmallows! Here is the recipe for Wubbzy's favorite St. Patrick's day treat:  Wubbzy's  St. Paddy's Day Marshmallow Pops!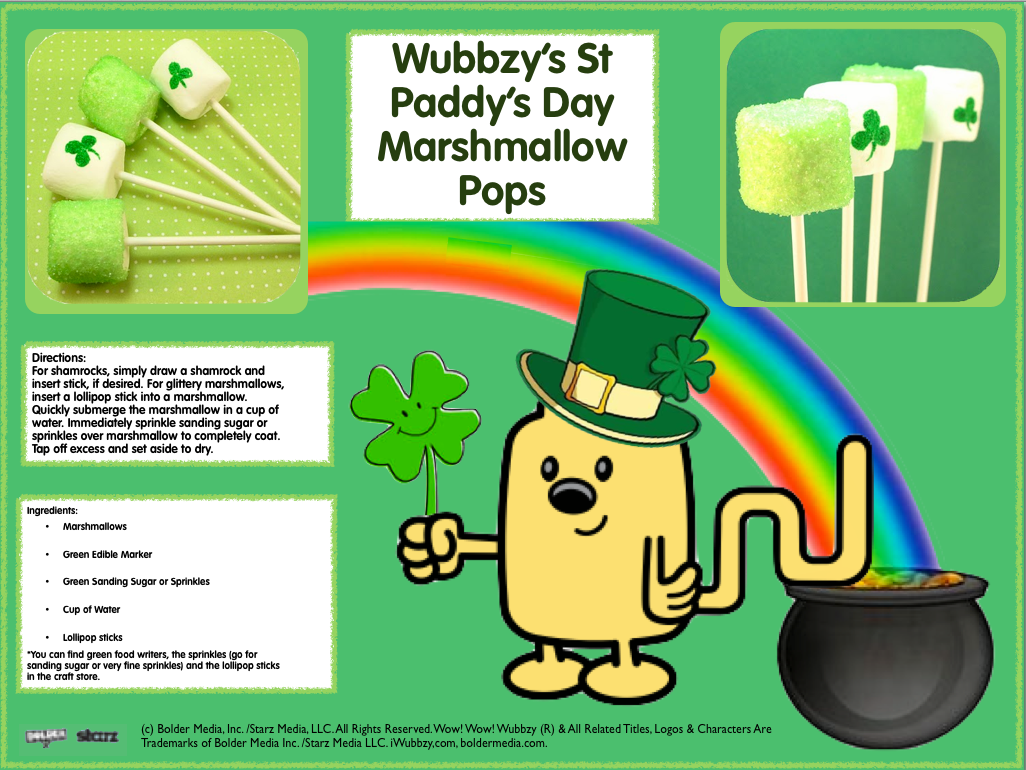 Wubbzy's very favorite part about St. Patricks day is Wuzzleburg's St. Patrick's day parade! Many cities have a St. Patrick's Day parade. Dublin, the capital of Ireland, has a huge St. Patrick's Day festival from March 15-19, that features a parade, family carnivals, treasure hunt, dance, theatre and more. In North American, parades are often held on the Sunday before March 17. Some paint the yellow street lines green for the day! In Chicago, the Chicago River is dyed green with a special dye that only lasts a few hours. There has been a St. Patrick's Day parade in Boston, Massachusetts since 1737. Montreal is home to Canada's longest running St. Patrick's Day parade, which began in 1824.
Check out another one of Wubbzy's Favorite Parades, Wuzzleburg's Friendship Day Parade, in Wubbzy's cool new app "Wubbzy Loves You."