Today Wubbzy has extra special, oh-so-delicious food on his mind that he just can't stop thinking about! Can you guess what it is? It's a beloved food that comes in both smooth and crunchy varieties. It's brown and is jelly's best friend. Did you guess it?  Wubbzy is craving some good ol' peanut butter! That's right – Wubbzy wants some of that creamy deliciousness to smear between some slices of bread for the perfect snack! Wubbzy certainly isn't shy about how much he loves peanut butter. Wubbzy even loves this delicious treat so much that he was spotted here grabbing a peanutty snack from the Peanutty Butter Peanut! What's your favorite way to eat peanut butter? Have you tried any of Wubbzy's favorites – peanut butter with jelly, fluff, or applesauce? Maybe you've had one of Wubbzy's most favorite snacks ever – ants on a log with peanut butter on celery sprinkled with raisins! How yum-yummy does that sound? Wubbzy loves peanut butter so very much that he decided to explore other fun things he could do with peanuts (besides just eating peanut butter, of course!).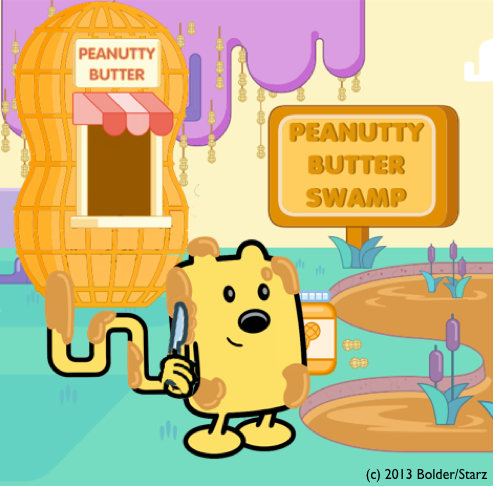 Wubbzy discovered that there's a boatload of fun things to do with peanuts that  you never thought could be so much fun! Wubbzy found a really cool collection with lots of awesomely fun ideas that are way more fun than just eating peanuts! Wubbzy never knew there were so many different uses for peanuts besides just grinding them up as peanut butter! ! His favorite idea – taking a trip to the nearest zoo to feed the elephants! What a fun way to have an adventure, spending a day outside hanging out with animals! Even the elephants will be having a yummy day!
Can't make it to a zoo? Not a problem! There are plenty of fun things to do with peanuts from the comfort of your very own home (with an adult's help, of course!). Wubbzy had an absolute BLAST when he did this fun activity for Edible Play Dough! Wubbzy had so much fun making all sorts of different shapes and creatures out of this play-dough. The best part for Wubbzy, was that his hands smelled like peanut butter for the rest of the day! How silly does that sound? Take some of Wubbzy's suggestions for ways to enjoy all of the deliciousness of peanut butter!